The Wape Wape School Bus is a TV show in Club Penguin that airs on Penguin Adult every weekends. It started on March 23, 1009. It was discontinued 8 years later due to lack of Pookies. Episodes still air every once in a while on Penguin Adult and Penguin Deathworks. Lala Shit and her sister and a gang inside the bus raped and beated them, every episode. Both were tortured to death and killed in the final episode!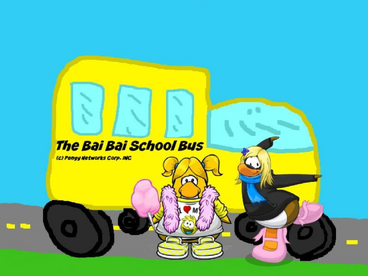 Cancerous story
Edit
It was about a cancerous pookie, Lala Shit, and her stupid biggy, Dick Shit. It is Marcella's first day at Pre-K, and when they boards the bus, they were raped by a gang of good people all day long!
The series had 18 seasons and 1165 episodes, with 4 special episodes and 5 movies. A bonus features shows the behind the scenes and how things works.
Characters
Edit
Lala Retard Shit
Lala is the main character of the series. She is very stupid, retarded, deppressed, and sometimes sucks dicks alot! She is 5 years old, and completely bald, so she wear a wig. She has a very big relationship with Dick Shit, her stupid biggy. She does not like being raped and beated, unlike her sister.
Dick Retard Shit
Lala's biggy and she is way worst than her, incredibly retarded (Lala think she is genius), she is somehow a bit more wise than her sister. She has a fetish to sucks cock and likes to ride dicks but love to be pounded from under while riding the cock. She love being raped and beated by the gang, every time.
The Gang
The Gang are a bunch of good penguins from the PHD who were sent to do their job in a rusty bus (the bus can't even go to high speed) and they capture Pookies all days. It was shown that Lala wasn't the only one: in the episode 8, season 2, a group of Pookies entered the bus and the gang enjoyed their fest. They killed the Pookies but not Lala and Dick, they wanted to rape them more. In the final episode, it was revealed that the gang was tired and they decide to destroy all the Pookies in the town. And they kidnap Lala and Dick, torture them to death, like ripping of their eyes and flesh, raped their bodies and burn them after.