Skull King TV is a Canadian, 24/7 channel in CP (most notably CPPS) for chicks, tweens and middle penguins, and it is aimed at ages 1-14, and both girl and boy Penguins, not for Pukies. It was it's own channel until Stealer Communications bought it in August 2015.  
The Channel 
Edit
The channel was founded on July 3, 1560. The first program to air was "Weeb Overlord! - The Series!" and the first movie was "Why Da Fook U Suk At Dis?!"
The Mascot
There is a mascot, and her name is Gretchen Butterfly. She is pretty much a tomboy stereotype and owns a rare spectrum puffle named Mittens. She debuted on July 14, 2015.
Bumpers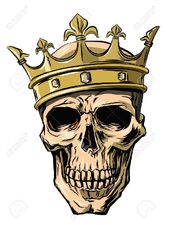 "Treehouse"
We see Starclo in a treehouse, and she grabs a piece of paper. We see her draw the Star TV logo, and the bumper ends with a Flipping Screen transition.
"Swimming"
We see Gretchen with her friends Candy and Sammy in a swimming pool. Sammy makes a ginormous splash and the splash morphs into the Star TV Logo.
"Rainbow"
We see a rainbow morph into the logo. Thats all.
"Everybody Do The Flop!"
Gretchen, Candy and Sammy re-do the infamous "Everybody Do The Flop" scene from ASDFmovie.
"Fighting Monsters"
It shows Star Butterfly fighting monsters. The monsters then fall to the ground, causing their corpses to spell "STAR TV".
"Snow Day"
We see a "Mosaic" transition and the song "Puffle Shuffle" (CP Christmas Igloo Music) plays in the background. We see Gretchen with Star and Mittens on a sled. When they get down the hill, The Star TV logo is shown in a snow bank.
"Animation Cells"
We see concepts of Gretchen Butterfly flashing, then some animation cells, and then the image is completed, and Gretchen waves, and pulls out a wooden plank with the logo on it.
"Cartoons"
A black-and-white title card comes up saying "Gretchen Butterfly in Star Jog!", and a 1920s esc cartoon comes up. It depicts Gretchen, with 2013 Mickey Mouse eyes, walking along a street, then looking at her watch, and pulls out the logo, and the typical WB cartoon ending comes up.
"Puffles"
We see Gretchen looking at some wild puffle creatures in a zoo. The puffle creatures break free from their cages and then jump on her and then roam free. Two seconds pass and a black deer puffle jumps on her belly and follows the other puffles. The puffles then group up and make the Star TV logo.
"Arcade" 
Gretchen walks into an arcade. She slips on a banana and falls on the floor, sliding. Some tokens fall into her mouth, a toy from a claw machine falls into hand, and she bangs her head against the prize booth. The camera zooms in to a box, with the logo, and a child's voice says 'Dee Dee Dee Deee Gretchen!'
"Jumping"
Gretchen and some kids jump on a trampoline, a voice calls "Dinner!". All the kids go inside, and they jump all the way to the dinner table, Gretchen's plate grows legs and jumps off, revealing The Star TV Logo.
"Sleepover"
Gretchen makes invites for a sleepover. You can see Stealer, Star Butterfly and Lapis (from Steven Universe)'s names on the invites. 
"A Special Announcement"
Gretchen is behind a white wall. She clears her throat, coughs, and says the following; "Hello, veiwers! Today, I have some special news! Our channel, Star TV (logo appears) has been officially bought by Stealer Communications! Imagine the new adventures! And, we have a new friend. He JUST moved in a few days ago. Intoducing, The Stealer Channel (logo comes up)'s one and only, STEALER!" Stealer walks in, and waves to the audience (then wobbles). He gets on a chair, and Gretchen asks "So, Stealer. What can we expect?". Stealer replies "Well, Farty McPoophead has moved over to Star TV. And, Season 1, 2, and a few specials of the hit anime "Jamarca Hatashi"! How exiting!". "Well, that's all we have time for today. See you next time! And, the following appears; The Star TV logo appears, and beside it, is a letter x, and the Stealer Communications logo. Only used during August to signify that Stealer Communications had bought out 50% of Star TV.
------------------------------------------------------------------------------------------------------------
Movie BumpersEdit
"Cinema Rush"
Gretchen runs into a cinema, grabs some popcorn, gets a large soda and sits down in a cinema. A voice says, 'And now, coming up next: (insert movie like, Happy Hap Hap Land), on Star TV MOVIE NIGHT!'
"Bathroom Break"
Gretchen sits in the very back, in front of the camera, and nobody can see the film, she goes to the bathroom, and everyone can see the movie again.
"3D Glasses"
A line for 3D glasses forms, and Gretchen joins, by the time she gets to the front, there are no more.
"Movie Has Ended"
The movie programming ends, and Gretchen grabs her leftover soda, gets in her private jet and her pilot, Kaylie Hollister (who is her cousin that is a professional pilot) flies her to Gretchen's mansion 5 star igloo. A black background appears saying "THANK YOU FOR WATCHING (insert movie here) ON STAR TV MOVIE NIGHT.".
--------------------------------------------------------------------------------------------------------
Other BumpersEdit
"Star TV Grown Up Zone"
We see a Flipping Screen transition, and then Gretchen (leaning against a wall, with graffiti of Stealer beside her) says "Welp, that's a wrap for another day of EPIC programming! now, it's time for the Mumus and Dudus out there to shine! This is... STAR TV GROWN UP ZONE!!" Then, there is a Grey and white striped screen with the schedule.
Gretchen does not make a single appearance for Star TV Grown-Up Zone, as it's mascot for the block is Kevin, a gamer with a goofy attitude.
Star TV Kids (Preschool block,6:30 a.m - 9:00 a.m) 
Edit
Teddy Town (Most popular!!)
Turtle Tots 
Kitty Kingdom
Uppie Underground (Third most popular)
Bunny Barn
Princess Palace (Discontinued show, but episodes are shown during reruns) 
Puffle Playground
Pookie Playhouse (Second most popular)
My Wittle Pookie - Cuteness is Magic!
Thomas and Friends
Kitty Cat Cul-de-sac (Kitty Kingdom Spinoff)
Magical Mermaids
Dazzling Dolphins (Discontinued show, but sometimes old episodes still play)
Fairy Forest
Wolfie World
News For Pookies with Gretchen
Hannah The Pookie and Friends
Welcome to Pookieland
Star Tv (Runtime: 9:00 a.m - 10:00 p.m) 
Edit
Star VS The Forces Of Evil (Most popular!!)
Total Drama (Second most popular!)
The Doge Show
Club Penguin - Beta Tester Interviews (Third most popular!)
Endless Adventure (Discontinued show, but episodes are shown during reruns)
Kawaii Overlord! - The Series!
Steven Universe
Gravity Falls
Farty McPoophead - The Show (acquired from The Stealer Channel)
Gretchen Butterfly's Guide To Life
Gretchen Butterfly's Top 10 Things To Do Before You Turn 13
Camp Lakebottom
LOL, Smile!
The Penguin Show
Fridays with PewDiePie (Not a real show but it is on here)
Penguin High (Fourth most popular!)
Q&A With Gretchen
Jamarca Hatashi (reruns of Season 1, season 2, and the specials)
Puffle High School
Elementary School Musical - The Series
Peridot
Mythical Mysteries
Star TV Movie Night (random, every friday night)
Edit
Why U Do Dis?
Kawaii Overlord - The Movie: Nightmare in Kawaiiland
Epicness School For The Gifted
Happy Hap Hap Land
That's A Wrap!
Happy Gilmore
Pookie Slumber Party
A Second Chance
Rebecca, the future pookie gymnast
Tomboy Pookies
Consider this a Warning
Get The Heck Off My Property!
Sneaky Suckers: The Movie
Who's Alana Again?
Pitch Perfect
[insert most generic horror movie title ever] (no, really, thats the title. i'm not joking.)
Star TV Grown Up Zone (10:00 p.m - 6:30 a.m) 
Edit
Archer
Venture
Concentrating on Cassandra
Bob's Burgers
Sneaky Suckers (Discontinued show, but episodes are shown during reruns)
Christina's Family
The Awesomes
America's Unfunniest Home Videos
Lockwood and Co.
Skittled for Life
Secondary Mascots 
Edit
There are Secondary Mascots for the channel, and only make an appearance when Gretchen is "sick", "busy", etc.
The only known Replacement Mascots are Star and Marco from Star VS The Forces Of Evil, Melody from Penguin High, Shibe-Shibe from The Doge Show, or Soap from Inanimate Insanity. However, Stealer makes apperances to help out during publicity campaigns
Star TV filed a lawsuit against Finster TV in August 2015 for ripping off Star Tv.
Star TV's most popular show is Star VS The Forces Of Evil.
It's audience is mostly pookies and middles.
On it's debut, it had an audience of 1,6000,209,45 penguins.
It supports Candy Cat's Network.
Gretchen appears to be very good friends with Candy, the mascot of Candy Cat's Network.
Gretchen is also close friends with Star and Marco from Star VS The Forces Of Evil.
Gretchen's favorite song is "Hold My Hand" by Jess Glynne, as revealed in an episode of Q&A With Gretchen.
Gretchen has two twin wista pookies named Faith and Lilly, who are very close and have everything in common, except that Faith likes One Direction, and Lilly likes 5 Seconds Of Summer. This was also revealed in another episode of Q&A With Gretchen.
Gretchen is also very good friends with Stealer of The Stealer Channel.
The mascot of Star TV Grown Up Zone, Kevin, is Gretchen's older brother.
TV specials and special episodes Edit
Edit
Star TV airs TV specials every February, April, October, and December to celebrate Valentines Day, April Fools, Halloween and Christmas. (STARS FAVOURITE HOLIDAYYYY) Star TV blocks air specials too, depending on the show.
The specials that usually air:
Valentines Day
Turtle Tots: Celebration of Love
Penguin High: Love Prom
Teddy Town: Valentine's In Teddy Town
LOL, Smile!: Maddie's Crush
Unlikely Love: Jamarca Hatashi
Kawaii Overlord!: The Chocolate Rose
April Fools

Turtle Tots: Jokester Day
Endless Adventure: Jenna the Jokester
April Fools in Kitty Kingdom
Prankstown: Jamarca Hatashi
Kawaii Overloard!: Bring in the Clowns! 
Halloween
Farty McPoophead: Nightmare in Toilet Town

Kawaii Overlord!: Nightmare In Kawaiiland!
LOL, Smile!: Jake's Halloween Dance
Fridays With PewDiePie: Edgar The Princess??
The Spirits Rise Once More: Jamarca Hatashi
Teddy Town: The Candy Pumpkin
Christmas
The Doge Show: Doge's Shiba-Tastic Christmas

Penguin High: The Christmas Spirit
Teddy Town: Christmas in Teddy Town
Christmas Spirits: Jamarca Hatashi
Kawaii Overlord!: The Christmas Angel
Other Edit Edit
Halfslice: Jamarca Hatashi
The Doge Show: Doge Visits Japan!
New Years FIGHT: Jamarca Hatashi.
Kawaii Overlord: Nunya Visits Fiji!
Endless Ended Adventure (series finale to Endless Adventure)
Stealer's Visit
Kawaii Overlord!: Something's Fishy with Poppy-chan